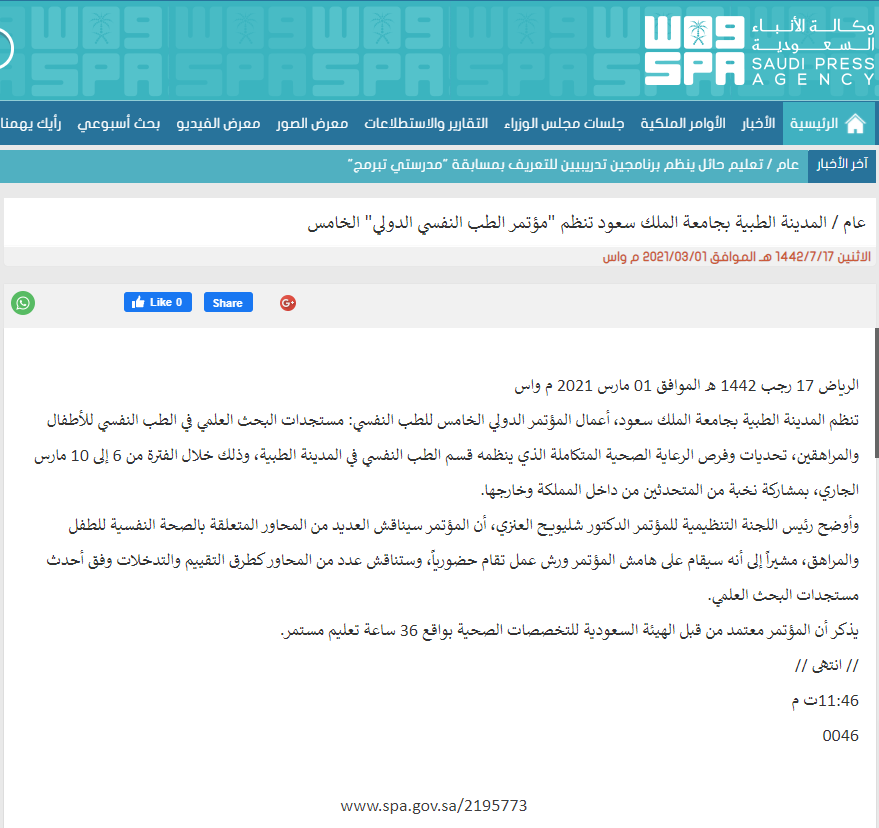 The Fifth International Conference on Mental Health
Titled: Child and Adolescent Mental Health
Organized by the Department of Psychiatry at King Saud University College of Medicine and the University Medical City. The conference took place from March 6 to 10, 2021, under the patronage of the Ishraq Association, the National Center for Mental Health Promotion, and the SABIC Chair for Psychological Health Research and Applications, and was organized by The Chapter company.
The conference spanned five days, beginning with the first day dedicated to workshops, which included six workshops covering various healthcare specialties related to children and adolescents' mental health, such as special education for psychological therapy, speech and language therapy, and occupational therapy. The following four days of the conference featured specialized lectures presented by over forty international, regional, and local speakers. The conference attracted participants interested in mental health from over eleven countries.
The conference was divided into four main themes, with each theme discussed on a different day. The first day focused on developmental disorders, including attention-deficit hyperactivity disorder (ADHD), and autism spectrum disorders. The second day addressed mood disorders in children and adolescents. The third day focused on anxiety disorders and comorbid conditions. The final day covered various forms of psychological therapy, including individual, group, and family therapy.
The conference also provided an opportunity to present research abstracts from multiple researchers, with over eighteen research abstracts presented during five separate sessions. The overall impression of the conference was excellent, with high-quality and substantial attendance. The conference received extensive media coverage from various outlets. It's worth noting that the conference is accredited by the Saudi Commission for Health Specialties for 36 hours of continuous medical education.