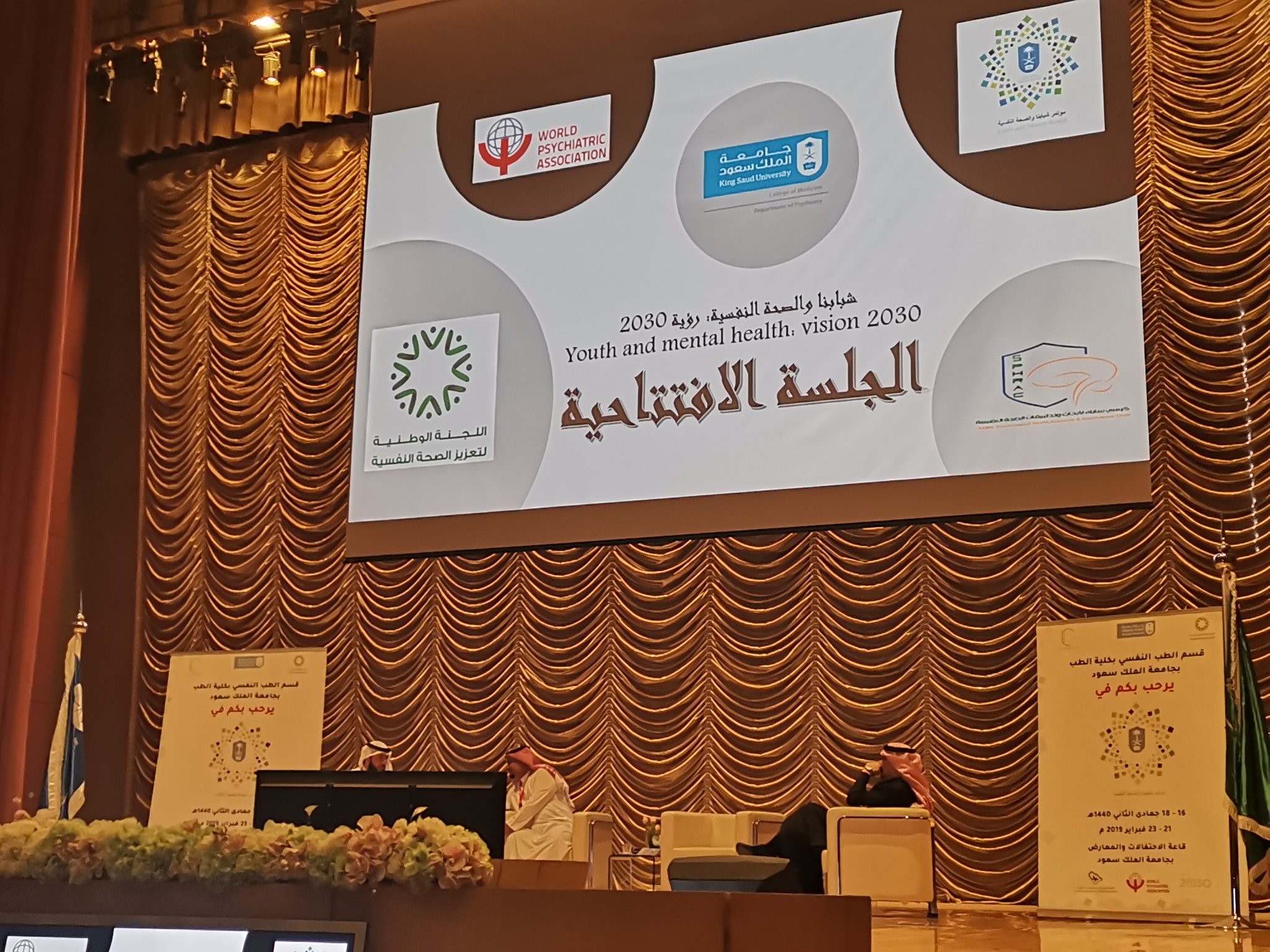 The Department of Psychiatry and the SABIC Chair for Psychological Health Research and Applications at King Saud University Medical City organized the fourth international conference on psychiatry titled "Our Youth and Mental Health, Vision 2030." The conference was held from February 21 to 23, 2019, at the University City for Female Students at King Saud University.
The conference included three scientific tracks and workshops. The conference was preceded by workshops (four in Arabic and two in English) held at the College of Medicine at King Saud University.
The conference officially began on Friday, February 22, from 2:00 PM to 8:00 PM, under the patronage of Dr. Yousif Aseeri on behalf of the University Director, Dr. Badran Al-Omar, in the presence of Dr. Majid Al-Madi, the Deputy Dean for Graduate Studies and Research, representing Dr. Khaled Fouda, the Dean of the College of Medicine.
The conference featured nine lectures in English and nine lectures in Arabic, with a total of 567 participants.
On the second day, February 23, from 8:00 AM to 5:00 PM, there were 22 lectures in English and 13 lectures in Arabic, with 567 participants.
These lectures were presented by a group of doctors, psychologists, and social specialists from Saudi Arabia, the Arab Gulf, and the Arab world, totaling sixty presenters. There were also sixty lectures and workshops.
The conference had the participation of several official government entities and volunteer teams, who highlighted their national roles in education, awareness, and services in the field of mental health, including:
The National Committee for Mental Health Promotion.
The Permanent Committee for Mental Health Promotion at King Saud University.
The SABIC Chair for Psychological Health Research and Applications at King Saud University.
Ajwad National Society for Community Services.
The Saudi Society for Schizophrenia.
The Elite Volunteer Specialists Team.
Turabbat Family Counseling Center.
Amanuk Psychological Support Volunteer Team.
Childhood Support Group in the National Committee for Mental Health Promotion.
The conference aimed to shed light on psychological and social issues related to youth from the perspective of the Kingdom's Vision 2030, as well as to discuss the latest developments in mental health.
Some of the conference's features this year included:
Offering rigorous scientific content and providing an opportunity for all interested parties to participate.
Exchanging experiences among professionals in related fields.
The absence of pharmaceutical company support or participation, which is rare in medical conferences.
Including a session for patients and their families to share their experiences in service provision.
The conference resulted in several recommendations, including:
Establishing psychiatric departments in public hospitals to provide mental health care for all patients who require it.
Developing psychological services in primary care centers in neighborhoods for easier access to services.
Supporting Hope Complexes for Mental Health in the Kingdom to act as specialized reference hospitals in each region for treating severe mental illnesses and addiction, as well as for forensic psychiatry.
Creating day care centers, halfway houses, and long-term care facilities to reduce homelessness among people with chronic mental illnesses.
Encouraging the private health sector to expand its mental health services, with increased regulation and the enactment of laws to protect mentally ill patients from exploitation.
Activating the mental health care system established by the Royal Decree in 1435 AH (2014), reviewing it, and proposing any necessary amendments.
Encouraging universities and the Saudi Commission for Health Specialties to develop and implement specialized clinical training programs, including clinical diplomas in psychotherapy, master's and doctoral programs in psychotherapy for medical, psychological, and social specialists working in therapeutic healthcare institutions.
Promoting a culture of providing care to mentally ill and chronically ill patients in general, including encouraging volunteering in terms of time and financial support, and directing endowment funds and donations to this cause. This includes forming partnerships with the private sector with social responsibility in support of mental health services, including establishing halfway houses for mentally ill patients.
Adding psychological education to the curriculum at middle, high school, and university levels, with simplified awareness about mental illnesses and their treatment.
Establishing a national institute or national authority for mental health, responsible for conducting in-depth studies on pressing mental health issues, as well as for developing plans and coordinating mental health services at the national level.